Lace Turquoise Stone Diamond Bangle in 18K Yellow Gold
Details & Description
This bangle is creatively designed in 18K yellow gold textures which are intertwined together forming a distinctive piece that will be cherished forever. The cuff of the bangle features a series of gold beads each is 5 mm wide, at the end of either side of the cuff are two 15 mm motifs one in mono-coloured textured yellow gold while the other uses turquoise gemstone that skillfully fill the pattern's grooves, turquoise stone is known for its heavenly colour from aqua blue to light azure green helping induce internal serenity and lifting depleted spirits. To further elevate the design brilliant 0.06 carat diamond emblishments are beautifully placed adding beautiful interest to the design. For a powerful, elegant look wear it with matching earrings, ring or necklace or stack it with "Lace" bracelets.
More Information

| | |
| --- | --- |
| SKU | LAC-102-TQ-BG-X.0 |
| Brands | Lace |
| Diamond | 0.06 Ct |
| Products | Bangles |
| Metal color | Yellow |
| Other Stone | Turquoise |
| Metal Purity | 18k |
The Lace collection embodies women's' supreme elegance and their graceful fluidity using mesmerizing biomorphic, geometric patterns that represent the underlying order and unity of nature with symmetrical textures and structures reflecting women's' alluring complexity and undeniable beauty making for iconic designs that are classically and modernly prepossessing. Each design reflects balance, rhythm and symmetry making for a feminine and graceful addition to your outfit. Lace collection features delicate patterns that resemble artistic paintings that draw inspiration from the Arabic architecture with lacelike insertions illustrated by interwoven geometric silhouettes with malachite, black or white mother of pearl and turquoise creating mesmerizing contrast against the 18K yellow gold. The interwoven geometric silhouettes are made with a variety of precious stones, the protection stone, Malachite, known for its beautiful rich green colour and its absorption of negative energies enhancing well-being or with black or with white Mother Of Pearl famous for its healing power helping with emotional balance and harmony, or with the purification Turquoise stone with its heavenly colour from aqua blue to light azure green helping induce internal serenity and lifting depleted spirits. The collection is set in 18K hammered texture pure gold and expands to include necklaces, pendant chains, earrings, rings, anklets, panja, bracelets and bangles.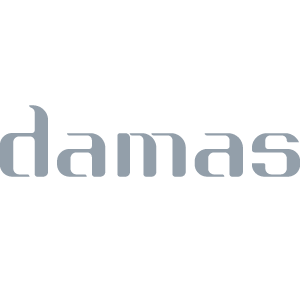 Meet with an Expert
Book an appointment to get assistance making the right purchase.

Refunds & Returns policy
See our Damas Promise for Exchange and Upgrades.

Need Assistance?
For any assistance you may contact Damas Customer Service.